Chess is back and at a new venue and on a new day, details below.
Scarborough Chess Club plays at the The Roscoe Rooms in Roscoe Street, Scarborough. Club nights are every Monday from 7:30pm to 10:30pm.
We are on the second floor of the building, which is straight up the stairs from the entrance.
There are a variety of tournaments organised including a Club Championship which runs throughout the year, two handicap tournaments, as well as informal friendly games played on club nights. There are a wide range of playing strengths in the club.
The first Monday of each month is set aside for training and discussion. These sessions are expected to last about an hour with the remainder of the evening available for informal games or the club's quickplay handicap tournaments. All are welcome.
The club enters two teams in the York League. Details of results, league tables and fixtures are available through the English Chess Federation website.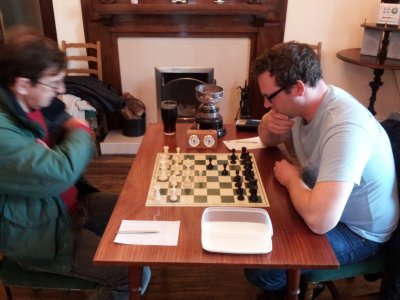 The deciding game in the 2014 club championship.
For more information, contact Neil Pennock - npennock@btopenworld.com.
New members of all playing strengths are welcome.
Web design and hosting by Chestysoft.