Doug Rawlinson Rapidplay
The Doug Rawlingson Rapid Play on the 13 June 2017 resulted in an exciting last round. John Jarmany was held to a draw by Neil Pennock with the White pieces which left Simon Chester the opportunity to tie for first place with four points if he could beat Jon Ayres with the Black pieces which he eventually did in the last game to finish. No tie break play off again this year. In joint third were Chris Dossett, Neil Pennock and Colin Weller all on three and a half points each. The prize of a copy of British Chess Magazine when to Tom McNally for his 2 points having faced some of the strongest players in the club. A total of fourteen players participated.
League Match - 6th April 2017
Scarborough first team played their last match of the season against Super Knights at the RI on the 6 April. Even with a number of first team regulars not been able to make it the team had a rating advantage of 817 to 768 . The match proved a far closer contest. Neil offered an early draw for it to be turned down but having it accepted later when his position improved. Nigel then lost a piece and his game followed by Colin finding himself in a lost ending. At this stage Simon Dixon was in a worse middle game and Gary was only sightly better. Simon Chester was better and then his opponent allowed a neat combination allowing Simon to win a rook which he then swapped for a knight and continued to exchange material and win. In the meantime Simon Dixon had reached a very good endgame with a Knight against a Bishop which he won. All then depended on the last game with both players getting low on time. This was a bishops of the same colour ending in which Gary could win if the Bishops were exchanged and his King could penetrate the position but had to keep protecting his queen side pawns which were on the same colour square as the bishop. The players finally agreed a draw and we were able to draw the match.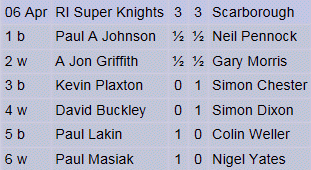 Match Card
League Game and Plate Final
Last week Scarborough played their only Monday game of the season away at Terriers, whose club is not available on Thursday evenings. This followed a defaulted match by Cavaliers gave Scarborough 2 points. Terriers had a strong side out, and held a 1,012-989 grading advantage over their rivals. In the end, Scarborough could only muster two draws and went home defeated 5-1.

Later the same week, The seasiders again travelled to York to play the Plate Final, a competition for teams knocked out of the Cup in the first round. Scarborough were missing their top two boards, but were still heavy favourites to lift the trophy, as they outgraded their opponents 602-442, or 32 points a board. The match was originally meant as a home game for Scarborough, but after being told of transport problems for the Apprentices, captain Simon Dixon generously offered to switch venues and travel to York Railway Institute to play the tie.

Ronnie Noble, playing his first game for the A team this season, secured a solid draw on bottom board. This was followed by top board Chris Dossett winning with the black pieces against the opponents captain. Scarborough captain Simon Dixon then won on time in a superior position, which put them just half a point from victory. Jon Ayres then capped a fine season by supplying the win that lifted the trophy. Simon Chester's magnanimous draw against an opponent very short of time sealed a 4-1 victory.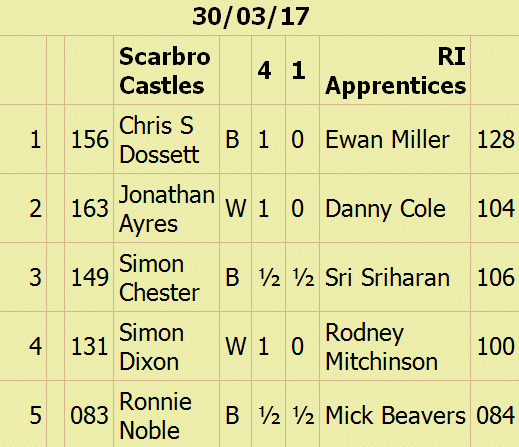 Match Card - Plate Final