Chess report 2018/19 season, matches 1 and 2
Scarborough Chess Club first team had a tough start to the season in prospect with two tricky away games.

Firstly, they were to face the current league champions and favourites to retain their title, Terriers. Scarborough were also behind on ratings, with the home team holding a 1015-925 advantage, or 15 points a board. To make matters worse for the Seasiders, they were missing Chris Dossett who was runner-up in the Scarborough Club Championships in the last two years. They did however have a new recruit in Les Wells who used to play in the York League some years ago when he lived in the area.

The situation looked equal in for much of the match, but gradually things started to move in the direction of the home team. First Colin Weller, then Simon Chester and Simon Dixon lost control and Scarborough found themselves 3-0 down. John Jarmany pulled one back on top board with a well-timed mating attack, but Neil Pennock could not extricate himself and eventually lost on time to secure the points for Terriers. Debutant Les Wells then won, against his highly rated opponent, to make the final score more respectable.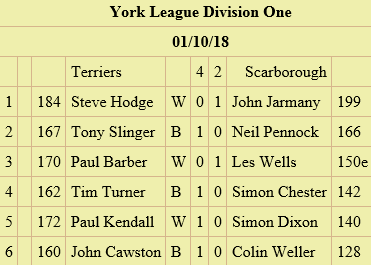 Match Card
Scarborough's second match of the season was another tricky trip to newly promoted Railway Institute Kings. They ran away with the second division title last year and had already started this season with a victory against a team with higher ratings than themselves. For this match Scarborough welcomed back Chris Dossett, but new player Les Wells was unavailable due to a non-chess related injury. Scarborough held a 940-841 rating advantage, or 16 points a board, so started as favourites, though the home side looked to have strength in depth.

The Seasiders started off brightly with a couple of solid wins on the top two boards, John Jarmany and Neil Pennock. With two points on the board and four games still playing, things were looking good, but the situation was worsening on the games still in play. Captain, Simon Dixon though a pawn down, managed to secure a draw, but Colin Weller on bottom board succumbed to his opponent's sacrificial attack to make the score 2.5/1.5 to the away team. Simon Chester then lost from a good position to bring the scores level. Chris Dossett was 3 pawns down and looked lost, but he managed to swap into an ending where each side had a bishop, but of opposite colours, where the material disadvantage was not decisive, and a draw was agreed for both the game and the match.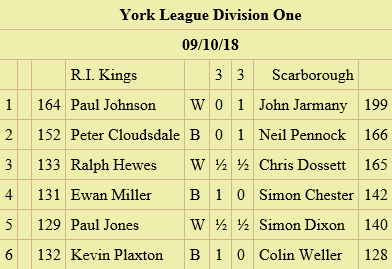 Match Card
Scarborough now have a break until November for their first home game of the season against Eagle and Child first team.
AGM and Quickplay Competion
Scarborough Chess Club held its Annual Meeting at the end of May marking another successful season in the York and District League. The first Team came joint third in the First Division and the Second Team came third in the Second Division, whilst winning the knock out cup in a very close final match. The members are now looking forward to the British Chess Championships which this year will be held in Hull at the end of July. This competition has events for all levels of chess player and a number of members of the club are planning to participate.

The club will be holding an evening event on the 19 June which will give players of all levels the opportunity to play five games in the evening. Anybody is welcome to attend. The event will commence at 7.30 pm at the North Riding Public House, North Marine Road, Scarborough.

Club Championship Result - 2017/2018 Season
The Scarborough Club Championship has been won by John Jarmany for the 7th consecutive year. John scored 9 points from a possible 10, winning 8 games and drawing against Simon Chester and the second placed Chris Dossett. Chris finished with 8.5 points and remains unbeaten for the last 2 years.

The Club Championship has been running for over 100 years and all club members can enter. This season it was an "all play all" format.