Chess Report
Scarborough Chess Club have had an interesting start to the second half of the season, after ending the first half with an exciting 3-3 draw at home to League Leaders Eagle and Child first team.
The next match was due to be at home to Cavaliers, but the away team cancelled at the last minutes, giving Scarborough the points by default.
This was followed by the reverse fixture against Eagle and Child first team. Unfortunately for the Seasiders, board one John Jarmany was unavailable, but this was balanced by the home team only having 5 players, so Scarborough started one board ahead. The home team had a rating advantage of 858-773, or 17 points a board, so Scarborough's task was a tough one, even with a 1-0 start
The first two games to finish both ended in draws, with a particularly well played game by Neil Pennock against his highly rated opponent. Unfortunately for Scarborough though, this proved to be the high water mark as Chris Dossett, Simon Dixon and Simon Chester all suffered defeats to end the match with a 4-2 defeat.

From playing the top of the league, four days later Scarborough then travelled to face the team at the foot of the table, Brigantes 2nd team. Scarborough were boosted by the return of John Jarmany on top board, which helped them have a 959-800 lead on gradings, or 20 points a board.
Both Simons. Chester and Dixon, got things moving with smooth victories, shortly followed by John Jarmany forcing resignation with a neat mating combination. Chris Dossett then made the match safe when his opponent used inordinate amounts of time and lost a rook and pawn endgame. Neil Pennock kept his superb form this season with another win and the home team were only saved from being whitewashed when Gary Morris was forced to agree a draw in a better position due to having only 90 seconds left on his clock to complete the game.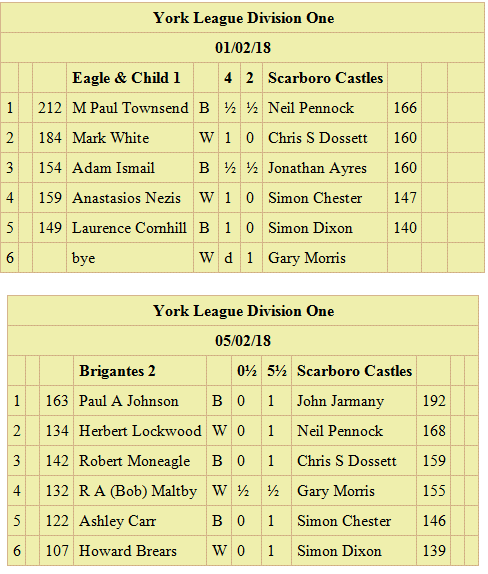 Results for both matches
This result puts Scarborough into second place in the table with five games to go. They are still hoping for their highest ever finish, which they would achieve if they were able to hang on to second spot.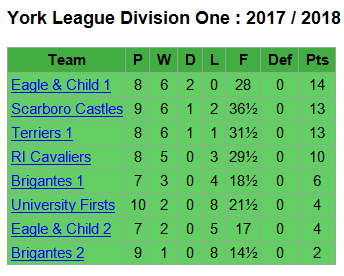 League Table
York University v Scarborough
It was anybody's guess how strong the University side would be when Scarborough travelled to play them on campus in the latest York League Division One match. In the squad they have three titled players who have all turned out this season, but they are very rarely all available together. As it turned out, only Fide Master Martin Brown was on the teamsheet of this triumvirate. Scarborough held a 927/888 rating advantage, or 6 points a board, but this was mainly because the University bottom board was 57 points below his opponent. Other than that disparity it looked to be a close game.

Colin Weller on bottom board was the first triumph against the magnificently named Cassius-ghandi Livingstone, who failed to channel the brilliance of any of his three namesakes. Chris Dossett then drew with the opposing captain. Simon Dixon then won a topsy-turvy battle where he was a room down for a while to put the Seasiders in charge. Even though Simon Chester lost, Neil Pennock had a won ending and duly sealed the points when his opponents ran out if time. John Jarmany could not hold back the storm of black pieces invading his position in the last game to finish, but that did not affect the result.

University Firsts 2 ˝ Scarborough 3 ˝
Martin Brown (FM) (219) 1-0 John Jarmany (193)
Tom Leah (172) 0-1 Neil Pennock (163)
Yousuf bin-Suhayl (164) ˝ ˝ Chris Dossett (160)
Pawel Golimowski (123) 1-0 Simon Chester (148)
Eduardo Garcia Padilla (143) 0-1 Simon Dixon (139)
Cassius-ghandi Livingstone (67) 0-1 Colin Weller (124)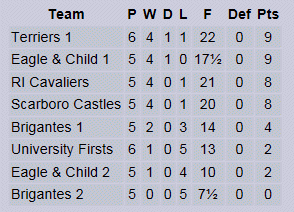 League Table
Scarborough's last match before the Christmas break will be a top of the table clash against league champions Eagle and Child first team.

Double Match Report
Scarborough first team had a tough week ahead of them with away games at Eagle and Child 2 in the knockout cup, as well as Terriers in the league.

In the Cup match, as predicted, both sides were vastly different from those who faced off in the league just 7 days previously. The home team had switched their teams around to such an extent that not one of them played in both matches. Meanwhile Scarborough were struggling with the three highest rates players absent and could only raise 4 players for the five board match. Eagle and Child 2 had a massive rating advantage of 748/573 or 44 points a board. With the match already at one-nil before a piece was moved, things were looking from for the visitors.

First to crack for the seasiders was captain Simon Dixon who struggled throughout against one of the counties strongest female players. Simon Chester, who had dropped a piece early on to a trick, sacrificed another piece for an attack, but that eventually fizzled out. On top board, Chris Dossett was holding it together against his International Master opponent until first one, then a second and finally a third pawn was list in a knight, rook and pawn endgame. Finally Colin Weller succumbed to the inevitable as his opponent forced a pawn to the queening square.

Eagle and Child 2 v Scarborough
Simon Ansell (I.M.) (238) 1-0 Chris Dossett (160)
Mark White (180) 1-0 Simon Chester (150)
Martina Flint (174) 1-0 Simon Dixon (140)
Anastasia Nesis (156) 1-0 Colin Weller (123)
Adam Ismail 1-0 Default

Five days later, Scarborough travelled again to face a strong Terriers side. The home team, though without any stars, had a strength in depth which gave them a narrow 1010-965 rating advantage, or 7 points a board. Scarborough were defending their 100 percent record in the league, but this was always going to be a tough encounter.

After an hour, things were looking close with Scarborough struggling where they were outgraded, on the bottom boards. Neil Pennock secured a comfortable draw on board 2, before both the Simons on boards 5 and 6 lost in quick succession. Chris Dossett then drew on board 3, from a tricky position. Jon Ayres then found himself in a worse position and was offered a draw, which he accepted. On top board John Jarmany was material down after missing his best continuation, but also accepted a draw offer to make the final score four-two to the Terriers.

Terriers v Scarborough
Steve Hodge (182) ˝ ˝ John Jarmany (194)
Paul Kendall (171) ˝ ˝ Neil Pennock (162)
Phil Gower (173) ˝ ˝ Chris Dossett (160)
Tony Slinger (167) ˝ ˝ Jon Ayres (160)
Tim Turner (161) 1-0 Simon Chester (149)
Michael Cawston (156) 1-0 Simon Dixon (140)

Scarborough now face another tough away match against York University, who have three titled players amongst their squad. The Seasiders will have to be on top form to bring back the points.