Sad News
The Scarborough Chess Club has lost one of its stalwart members when Malcolm Peart passed away on the 9 January 2021. Malcolm joined the club in the early 1980s and went on to win the Club Championship a total of thirteen times. The first was in 1991 and the last was in 2011. Over the years he also won all of the other competitions organised by the Club. It was his initiative for the Club to enter the National Club Championship. This resulted in the club winning the Intermediate Plate in 1987 and Malcolm winning the Best Game Prize in the Major Section and a prize of £50.

Over the years Malcolm carried out many roles for the Club starting as Team Captain and moving on to President before making the role of Publicity and Training Officer his own. He was always keen on giving players the opportunity to improve and felt handicap games could allow them to win some games and encourage them to improve further. He ran the club's time handicap and material handicap quick play competitions to complement his first Tuesday of the month training events for many years, which were very popular. Much to his consternation he went on to win the events despite the handicap applied on a number of occasions. He will be greatly missed by the members of the Club.

(Further information on Yorkshire Chess site)

Scarborough v Ye Olde Starre Inne
Scarborough Chess Club continued their quest for a first ever league title with a home match against Ye Olde Starre Inne. The visitors had been a bête noire for the Seasiders this season, beating them both in the reverse league fixture, and knocking them out of the cup. Revenge was definitely on the minds of the team.

The home team had their strongest side of the season available, with Jon Ayres coming in to replace captain Simon Dixon on bottom board. They held a rating advantage of 979-950, or only 5 points a board, so it looked like a tight struggle would ensue.

Jon Ayres, making his seasonal debut, got Scarborough off to a flying start with a nice positional squeeze. Paul Hutchinson then continued his good form with a win, shortly followed by top board John Jarmany making it 3-0 with some nice middle game tactics. Les Wells made sure both points were safe with a solid draw. Chris Dossett, (who was appropriately for Valentine's Eve playing Mr Darling), poured on more misery for the visitors with a nice queen side attack after the kings had castles on opposite sides. Simon Chester then drew the final game after sacrificing a knight for two pawns, but not quite finding the winning line in a complicated endgame.

This was Scarborough's best win of the season and closes the gap on leaders Acomb.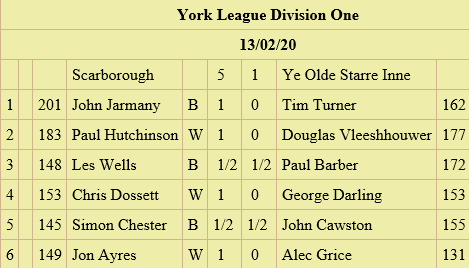 Match Card
Scarborough next have an away game against Eagle and Child 2, who beat them in the reverse fixture in January. If they can reverse that result, a showdown with last year's champions and current leaders Acomb, could decide the destiny of this year's title.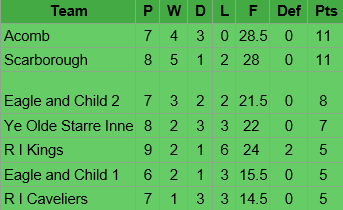 League Table
Match Reports
Scarborough chess club have had a strange start to the second half of the season. Firstly, they entertained Eagle and Child 2, who were just behind them in the league standings. Unfortunately for the Seasiders two of the middle order were unavailable, but they still held a 953-917 rating advantage going into the match.

Super-sub Malcolm Kirby, playing his first game of the season started things off with a smooth victory on bottom board. Regrettably, for the home team, this turned out to be the high point of the match for them as Simon Dixon and Simon Chester both succumbed to the pressure and lost. John Jarmany and Neil Pennock kept the match alive with draws, but Paul Hutchinson, needing a win to tie the match, overpressed and lost.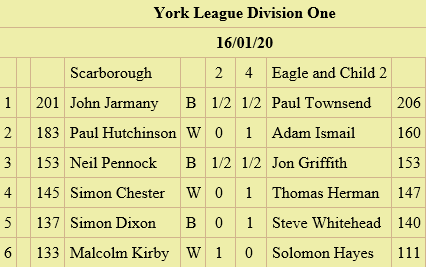 Match Card
A home match with Cavaliers was next on the fixture list for Scarborough. Unfortunately, the Away team could not raise a team and defaulted the match 6-0 to Scarborough.
A trip to Eagle and Child 1 came next. The Seasiders had both Chris Dossett and Les Wells back in their lineup but were missing Neil Pennock. Despite this absence, Scarborough held a 966-900 edge on grades, or 11 points a board, so they started slight favourites .

First to finish was captain Simon Dixon, who won from a tricky position, despite being a pawn down, his active King being the deciding factor. John Jarmany then slipped to a rare defeat on top board when his attack fizzled out. Paul Hutchinson then restored the lead for the visitors with a smooth win. Simon Chester then drew, shortly followed by another draw from Chris Dossett, who could not convert his extra pawn into anything substantial. This left Les Wells needing at least a draw to secure both points. With both players in severe time trouble mistakes and illegal moves happened on both sides. The dispute could not be resolved and this game will have to be resolved by the league. Scarborough have at least a draw in the match, but are hoping to get both points after the stewards enquiry.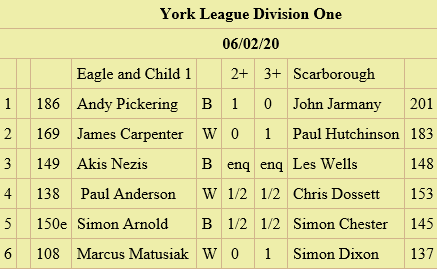 Match Card
This result may play a big part in who wins the league, as Scarborough dare second, a couple of points behind Acomb, who still have to visit the coast in what could be a title decider.