Match Reports from 29th March 2018
There was an exciting night in prospect at the Scarborough Chess Club on Thursday as the first team were playing a vital league game and the second team were completing in the reserve team Cup Final, this year only open to teams not in the top division.

A difficult decision had to be made first, as only 10 players were available for 11 boards. Simon Dixon, who normally plays bottom board for the first team and top board for the second team, decided that the Cup Final had to take priority.

This meant that the first team started a player short. Coupled with this, Brigantes 1st team had a rating advantage of 831-788, or 8 ˝ points a board. The Seasiders had the proverbial mountain to climb.

All the games were long and hard fought, with several swinging forward and backwards as each side strived for an advantage. Simon Chester had to settle for a draw, despite having pressure, but his opponent defended stoutly. Stan Lovell, making his seasonal debut for the first team was playing an old foe in Michael Jackson, but at the end of a "thriller" of a game, Stan succumbed to pressure and lost. This put Scarborough ˝ - 2 ˝ down with the top three boards still playing, needing a comeback akin to Lazarus.

Next to finish was Neil Pennock who continued his excellent season with a fine win after his opponent dropped a piece. Chris Dossett then applied pressure, with his opponent's king caught in the open and won with a neat ending. Top board John Jarmany then applied the coup-de-grace after being under pressure for most of the game, to seal the win for Scarborough.

York League Division One 29/03/18

Scarboro Castles 3˝ - 2˝ Brigantes 1

1 196 John Jarmany B 1 0 Gavyn Cooper 191
2 167 Neil Pennock W 1 0 Richard Cowan 168
3 160 Chris S Dossett B 1 0 Peter R Harrington 179
4 146 Simon Chester W ˝ ˝ Paul May 152
5 119 Stan Lovell B 0 1 Michael Jackson 141
6 0 Default W 0 1 Richard Mounce 144


Meanwhile Scarborough second team were also facing a ratings disadvantage of 8 ˝ points a board, as Brigantes third team lead that particular battle by 608-566. As we all know though, the tension of a Cup Final can do strange things to people and favourites on paper do not always come out on top.

First to finish was top board and captain Simon Dixon. His highly rated opponent took a pawn with queen and announced checkmate, only to find that Simon had a knight protecting the pawn, and it was not checkmate at all. It was a crazy blunder for a beginner to make, yet alone someone graded 157. This win for Scarborough was followed by two draws from Nigel Yates and Malcolm Kirby. Bottom board Ronnie Noble could not weather the storm of pieces invading his position and lost, but Colin Weller stayed calm in his opponent's time trouble and scored the win that brings the cup to Scarborough.

York League Division Two Cup Final 29/03/18

Scarborough B 3 - 2 Brigantes 3

1 146 Simon Dixon B 1 0 Bob Maltby 157
2 121 Malcolm Kirby W ˝ ˝ Ashley Carr 124
3 127 Colin Weller B 1 0 Sri Sriharan 114
4 86 Nigel Yates W ˝ ˝ Rodney Mitchinson 99
5 86 Ronnie Noble B 0 1 James Dessent 114

With one game to go in the top division, Scarborough have an excellent chance of their highest ever finish of third. In their last game of the season, they play Railway Institute Cavaliers, who are just behind them in the table.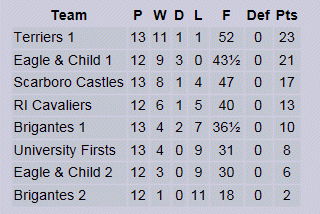 League Table
Chess Results
It has been a difficult period for Scarborough chess club, with some tough matches. They are trying to achieve a top three finish in the York and District League top division, which would be the highest position in their history.

First on the fixture list was a home match with Terriers, who are fighting it out with Eagle and Child first team for the league title. The visitors had a slender 993-982 rating advantage, or two points a board, so it was set to be a tight match.

Jon Ayres started things off with a draw, shortly followed John Jarmany and Chris Dossett also sharing the points. Neil Pennock then lost for the first time this season to put Terriers ahead. Gary Morris stayed calm after an attempted sacrifice by his opponent backfired, equalising the match. This left everything riding on Simon Chester's match, but with both players short of time, Simon's defences collapsed and the match was lost.

York League Division One
22/02/18 Scarboro Castles 2˝ 3˝ Terriers 1

1 193 John Jarmany B ˝ ˝ Steve R Hodge 179
2 169 Neil Pennock W 0 1 Patrick Gower 179
3 161 Chris S Dossett B ˝ ˝ Tim Turner 161
4 160 Jonathan Ayres W ˝ ˝ Paul M Barber 172
5 146 Simon Chester B 0 1 Christopher Duggan 166
6 153 Gary Morris W 1 0 Neville R Pearce 136

Next on the horizon was a "home" match with University. They are the only team in the league clinging to an old rule which allowed teams to have Scarborough play all games away. It was agreed to play this match at the University over 5 boards, as Scarborough were missing top board John Jarmany. This proved a big handicap as University fielded their strongest side of the season, with two F.I.D.E. Masters on the top two boards. This gave the students a massive 877-776 rating advantage, or 20 points a board.

Things did not start well for Scarborough when captain Simon Dixon got in trouble and lost. Jon Ayres then lost his unbeaten record for the season, followed by Neil Pennock succumbing to his opponent's pressure, sealing the match for the University team. Simon Chester managed to prevent a whitewash with a solid draw, but Chris Dossett could not convert in a wild game which could have gone either way.

York League Division One
15/03/18 Scarboro Castles 0˝ 4˝ University Firsts

1 167 Neil Pennock B 0 1 Martin Brown 211
2 161 Chris S Dossett W 0 1 Sam Chow 230
3 161 Jonathan Ayres B 0 1 Tom Leah 170
4 146 Simon Chester W ˝ ˝ Yousuf Bin-Suhayl 159
5 141 Simon Dixon B 0 1 Eduardo Garcia-Padilla 107

These two defeats had put to bed any chances of Scarborough winning the title, but they still had a chance of their best finish if they could win the last 3 games. The first of these was away at Eagle and Child 2nd team. The home side had International Master Simon Ansell on top board, but Scarborough had their top board John Jarmany back to face him. The home side held a rating advantage of 999-945 or 9 points a board, so it was going to be tough for the seasiders.

Chris Dossett was first on the board with a draw, followed by Malcolm Kirby, making his seasonal debut for the first team, also drawing. Jon Ayres then put the visitors in front with a fine win with the black pieces. Neil Pennock then also drew, as did Simon Chester to secure at least a point for Scarborough, with the top board game still playing. This was an exciting tussle with both kings caught in crossfire, but it was decided in the end by a humble pawn thrust by John, which either lead to mate or loss of the queen for his titled opponent, who resigned.

York League Division One
22/03/18 Eagle & Child 2 2 4 Scarboro Castles

1 235 Simon Ansell B 0 1 John Jarmany 193
2 165 James M Carpenter W ˝ ˝ Neil Pennock 167
3 148 A Jon Griffith B ˝ ˝ Chris S Dossett 161
4 140 Owen Robson W 0 1 Jonathan Ayres 158
5 150 Steve Whitehead B ˝ ˝ Simon Chester 146
6 161 Laurence Cornhill W ˝ ˝ G Malcolm Kirby 120

This excellent result keeps Scarborough's chances of third place alive. They have the two teams directly below them still to play, starting with Brigantes first team.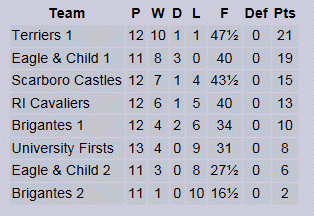 York League Division One : 2017 / 2018
Chess Report
Scarborough Chess Club have had an interesting start to the second half of the season, after ending the first half with an exciting 3-3 draw at home to League Leaders Eagle and Child first team.
The next match was due to be at home to Cavaliers, but the away team cancelled at the last minutes, giving Scarborough the points by default.
This was followed by the reverse fixture against Eagle and Child first team. Unfortunately for the Seasiders, board one John Jarmany was unavailable, but this was balanced by the home team only having 5 players, so Scarborough started one board ahead. The home team had a rating advantage of 858-773, or 17 points a board, so Scarborough's task was a tough one, even with a 1-0 start
The first two games to finish both ended in draws, with a particularly well played game by Neil Pennock against his highly rated opponent. Unfortunately for Scarborough though, this proved to be the high water mark as Chris Dossett, Simon Dixon and Simon Chester all suffered defeats to end the match with a 4-2 defeat.

From playing the top of the league, four days later Scarborough then travelled to face the team at the foot of the table, Brigantes 2nd team. Scarborough were boosted by the return of John Jarmany on top board, which helped them have a 959-800 lead on gradings, or 20 points a board.
Both Simons. Chester and Dixon, got things moving with smooth victories, shortly followed by John Jarmany forcing resignation with a neat mating combination. Chris Dossett then made the match safe when his opponent used inordinate amounts of time and lost a rook and pawn endgame. Neil Pennock kept his superb form this season with another win and the home team were only saved from being whitewashed when Gary Morris was forced to agree a draw in a better position due to having only 90 seconds left on his clock to complete the game.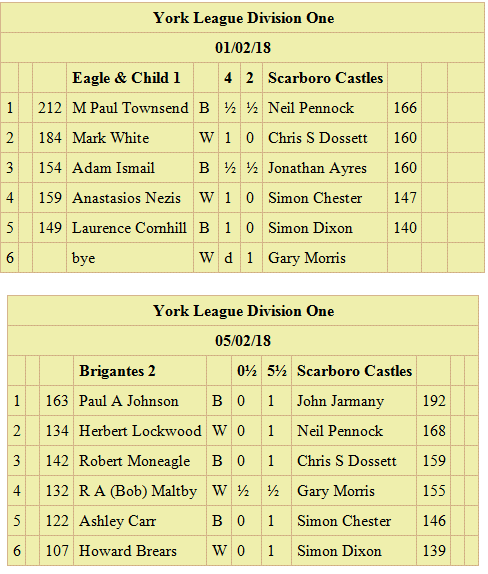 Results for both matches
This result puts Scarborough into second place in the table with five games to go. They are still hoping for their highest ever finish, which they would achieve if they were able to hang on to second spot.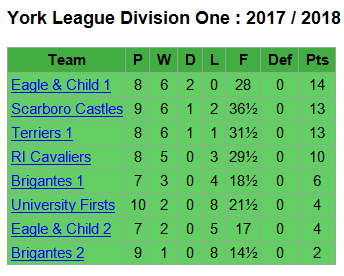 League Table
York University v Scarborough
It was anybody's guess how strong the University side would be when Scarborough travelled to play them on campus in the latest York League Division One match. In the squad they have three titled players who have all turned out this season, but they are very rarely all available together. As it turned out, only Fide Master Martin Brown was on the teamsheet of this triumvirate. Scarborough held a 927/888 rating advantage, or 6 points a board, but this was mainly because the University bottom board was 57 points below his opponent. Other than that disparity it looked to be a close game.

Colin Weller on bottom board was the first triumph against the magnificently named Cassius-ghandi Livingstone, who failed to channel the brilliance of any of his three namesakes. Chris Dossett then drew with the opposing captain. Simon Dixon then won a topsy-turvy battle where he was a room down for a while to put the Seasiders in charge. Even though Simon Chester lost, Neil Pennock had a won ending and duly sealed the points when his opponents ran out if time. John Jarmany could not hold back the storm of black pieces invading his position in the last game to finish, but that did not affect the result.

University Firsts 2 ˝ Scarborough 3 ˝
Martin Brown (FM) (219) 1-0 John Jarmany (193)
Tom Leah (172) 0-1 Neil Pennock (163)
Yousuf bin-Suhayl (164) ˝ ˝ Chris Dossett (160)
Pawel Golimowski (123) 1-0 Simon Chester (148)
Eduardo Garcia Padilla (143) 0-1 Simon Dixon (139)
Cassius-ghandi Livingstone (67) 0-1 Colin Weller (124)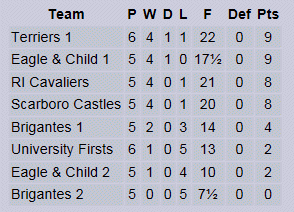 League Table
Scarborough's last match before the Christmas break will be a top of the table clash against league champions Eagle and Child first team.

Double Match Report
Scarborough first team had a tough week ahead of them with away games at Eagle and Child 2 in the knockout cup, as well as Terriers in the league.

In the Cup match, as predicted, both sides were vastly different from those who faced off in the league just 7 days previously. The home team had switched their teams around to such an extent that not one of them played in both matches. Meanwhile Scarborough were struggling with the three highest rates players absent and could only raise 4 players for the five board match. Eagle and Child 2 had a massive rating advantage of 748/573 or 44 points a board. With the match already at one-nil before a piece was moved, things were looking from for the visitors.

First to crack for the seasiders was captain Simon Dixon who struggled throughout against one of the counties strongest female players. Simon Chester, who had dropped a piece early on to a trick, sacrificed another piece for an attack, but that eventually fizzled out. On top board, Chris Dossett was holding it together against his International Master opponent until first one, then a second and finally a third pawn was list in a knight, rook and pawn endgame. Finally Colin Weller succumbed to the inevitable as his opponent forced a pawn to the queening square.

Eagle and Child 2 v Scarborough
Simon Ansell (I.M.) (238) 1-0 Chris Dossett (160)
Mark White (180) 1-0 Simon Chester (150)
Martina Flint (174) 1-0 Simon Dixon (140)
Anastasia Nesis (156) 1-0 Colin Weller (123)
Adam Ismail 1-0 Default

Five days later, Scarborough travelled again to face a strong Terriers side. The home team, though without any stars, had a strength in depth which gave them a narrow 1010-965 rating advantage, or 7 points a board. Scarborough were defending their 100 percent record in the league, but this was always going to be a tough encounter.

After an hour, things were looking close with Scarborough struggling where they were outgraded, on the bottom boards. Neil Pennock secured a comfortable draw on board 2, before both the Simons on boards 5 and 6 lost in quick succession. Chris Dossett then drew on board 3, from a tricky position. Jon Ayres then found himself in a worse position and was offered a draw, which he accepted. On top board John Jarmany was material down after missing his best continuation, but also accepted a draw offer to make the final score four-two to the Terriers.

Terriers v Scarborough
Steve Hodge (182) ˝ ˝ John Jarmany (194)
Paul Kendall (171) ˝ ˝ Neil Pennock (162)
Phil Gower (173) ˝ ˝ Chris Dossett (160)
Tony Slinger (167) ˝ ˝ Jon Ayres (160)
Tim Turner (161) 1-0 Simon Chester (149)
Michael Cawston (156) 1-0 Simon Dixon (140)

Scarborough now face another tough away match against York University, who have three titled players amongst their squad. The Seasiders will have to be on top form to bring back the points.

Scarborough v Eagle and Child 2
Scarborough's third match of the season was at home to Eagle and Child second team. The visitors were still strong in depth, despite their top board, International Master Simon Ansell not being available. Their lowest rated player was 142, but the home team held a narrow rating advantage of 963-922 or 7 points a board.

Jon Ayres, on board four, started things off with a 'blink and you missed it' draw. Two hours later this was the only result on the board though. Neil Pennock then put Scarborough ahead with a smooth win where he never seemed in trouble. Captain Simon Dixon then forced a draw by threefold repetition, followed by Simon Chester keeping his 100 percent record with a boaconstrictor-like victory. Chris Dossett then turned the tables after struggling for most of the match, with a swift counterattack to secure the points. Top board and club champion then put the icing on the cake with a win when his opponent's clock ran down in a tricky position.

This means that after three matches, the only thing stopping the Seasiders topping the league is the fact they have a game in hand on most of their rivals.

Scarborough v Eagle & Child 2
John Jarmany (193) 1-0 James Carpenter (169)
Neil Pennock (162) 1-0 Paul Moulton (165)
Chris Dossett (158) 1-0 Jon Griffith (160)
Jon Ayres (162) ˝ ˝ Owen Robson (142)
Simon Chester (148) 1-0 Paul Anderson (142)
Simon Dixon (140) ˝ ˝ Steve Whitehead (144)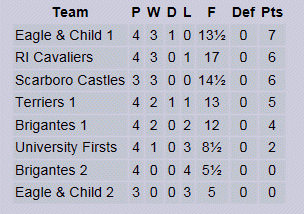 League Table
Scarborough now have a week off from the league, with a trip to visit the same opponents in the knockout cup. Both sides are expected to make several changed for that match.

Chris Dossett