Scarborough v Eagle and Child 2
Scarborough's third match of the season was at home to Eagle and Child second team. The visitors were still strong in depth, despite their top board, International Master Simon Ansell not being available. Their lowest rated player was 142, but the home team held a narrow rating advantage of 963-922 or 7 points a board.

Jon Ayres, on board four, started things off with a 'blink and you missed it' draw. Two hours later this was the only result on the board though. Neil Pennock then put Scarborough ahead with a smooth win where he never seemed in trouble. Captain Simon Dixon then forced a draw by threefold repetition, followed by Simon Chester keeping his 100 percent record with a boaconstrictor-like victory. Chris Dossett then turned the tables after struggling for most of the match, with a swift counterattack to secure the points. Top board and club champion then put the icing on the cake with a win when his opponent's clock ran down in a tricky position.

This means that after three matches, the only thing stopping the Seasiders topping the league is the fact they have a game in hand on most of their rivals.

Scarborough v Eagle & Child 2
John Jarmany (193) 1-0 James Carpenter (169)
Neil Pennock (162) 1-0 Paul Moulton (165)
Chris Dossett (158) 1-0 Jon Griffith (160)
Jon Ayres (162) ˝ ˝ Owen Robson (142)
Simon Chester (148) 1-0 Paul Anderson (142)
Simon Dixon (140) ˝ ˝ Steve Whitehead (144)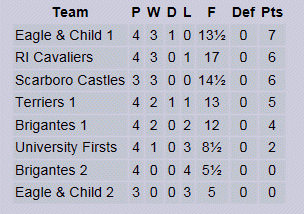 League Table
Scarborough now have a week off from the league, with a trip to visit the same opponents in the knockout cup. Both sides are expected to make several changed for that match.

Chris Dossett

Scarborough v Brigantes 1
The latest chess match report from Chris Dossett:

Scarborough played their second match of the new season away to Brigantes 1st team. After a narrow win again Brigantes 2nd team last week, they were expecting a much tougher match. As it turned out, they had a rating advantage of 998 to 840, or 26 points a board, bigger than the previous match. This was due to the home team missing a couple of top players whilst Scarborough had welcomed back their star performer last year Jon Ayres on board 4.

Chris Dossett got the seasiders off to a flying start when his opponent's sacrifice proved unsound. Jon Ayres then drew, shortly followed by captain Simon Dixon winning an endgame with just kings and pawns. Simon Chester also continued his good start to the season with a win, after his opponent missed a chance to swap off into an opposite coloured bishop end game that would have been tough to win. This left top boards Neil Pennock and John Jarmany who both came through with wins to give Scarborough a thumping 5.5/0.5 victory.

Peter Harrington 0 – 1 John Jarmany
Paul Brencher 0 – 1 Neil Pennock
Richard Mounce 0 – 1 Chris Dossett
Paul May ˝ ˝ Jon Ayres
Ian Carrigan 0 – 1 Simon Chester
Ashley Carr 0 – 1 Simon Dixon

The league table makes pleasant reading for anyone from Scarborough, but with 14 matches still to play, there is a long way to go.

P W D L F Pts
Eagle & Child 1 3 2 1 0 9.5 5
Brigantes 1 3 2 0 1 10 4
Scarborough 2 2 0 0 9.5 4
Cavaliers 2 2 0 0 9 4
Terriers 3 1 1 1 9.5 3
University Knights 2 0 1 1 5 1
University Firsts 2 0 1 1 4 1
Eagle &Child 2 2 0 0 2 4 0
Brigantes 2 3 0 0 3 3.5 0

Scarborough v Brigantes 2
Scarborough started the new season with a home match against newly promoted Brigantes 2 in the York and district first division. Scarborough had a rating advantage of 918 to 777, or 23 points a board.
Things were looking grim for the seasiders after an hour though as both Colin Weller on board five, and captain Simon Dixon on bottom board looked like they were about to lose. This turn of events meant the rest of the team pushed harder as they needed to win, causing their games to become more chaotic.

First to finish was Neil Pennock who drew with his experienced opponent on board 2. Then Simon Chester capitalised on a few weak moves to put the home side ahead. Simon Dixon then did his patented 'victory from the jaws of defeat' act, shortly followed by Colin Weller drawing a game in which he had struggled throughout. Chris Dossett was material down but ahead on the clock when he was offered a draw and, as this secured the win, the offer was accepted. John Jarmany on top board also ground out a draw to secure a 4-2 victory.

John Jarmany ˝ ˝ Paul Johnson
Neil Pennock ˝ ˝ Herbert Lockwood
Chris Dossett ˝ ˝ Robert Moneagle
Simon Chester 1 0 Bob Maltby
Colin Weller ˝ ˝ Ashley Carr
Simon Dixon 1 0 Stuart Acton.

Scarborough travel to play Brigantes first team next Thursday and will have to play much better to secure a win and keep the pressure on the rest of the division.
Doug Rawlinson Rapidplay
The Doug Rawlingson Rapid Play on the 13 June 2017 resulted in an exciting last round. John Jarmany was held to a draw by Neil Pennock with the White pieces which left Simon Chester the opportunity to tie for first place with four points if he could beat Jon Ayres with the Black pieces which he eventually did in the last game to finish. No tie break play off again this year. In joint third were Chris Dossett, Neil Pennock and Colin Weller all on three and a half points each. The prize of a copy of British Chess Magazine when to Tom McNally for his 2 points having faced some of the strongest players in the club. A total of fourteen players participated.
League Match - 6th April 2017
Scarborough first team played their last match of the season against Super Knights at the RI on the 6 April. Even with a number of first team regulars not been able to make it the team had a rating advantage of 817 to 768 . The match proved a far closer contest. Neil offered an early draw for it to be turned down but having it accepted later when his position improved. Nigel then lost a piece and his game followed by Colin finding himself in a lost ending. At this stage Simon Dixon was in a worse middle game and Gary was only sightly better. Simon Chester was better and then his opponent allowed a neat combination allowing Simon to win a rook which he then swapped for a knight and continued to exchange material and win. In the meantime Simon Dixon had reached a very good endgame with a Knight against a Bishop which he won. All then depended on the last game with both players getting low on time. This was a bishops of the same colour ending in which Gary could win if the Bishops were exchanged and his King could penetrate the position but had to keep protecting his queen side pawns which were on the same colour square as the bishop. The players finally agreed a draw and we were able to draw the match.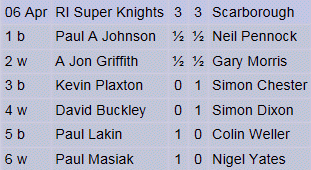 Match Card
League Game and Plate Final
Last week Scarborough played their only Monday game of the season away at Terriers, whose club is not available on Thursday evenings. This followed a defaulted match by Cavaliers gave Scarborough 2 points. Terriers had a strong side out, and held a 1,012-989 grading advantage over their rivals. In the end, Scarborough could only muster two draws and went home defeated 5-1.

Later the same week, The seasiders again travelled to York to play the Plate Final, a competition for teams knocked out of the Cup in the first round. Scarborough were missing their top two boards, but were still heavy favourites to lift the trophy, as they outgraded their opponents 602-442, or 32 points a board. The match was originally meant as a home game for Scarborough, but after being told of transport problems for the Apprentices, captain Simon Dixon generously offered to switch venues and travel to York Railway Institute to play the tie.

Ronnie Noble, playing his first game for the A team this season, secured a solid draw on bottom board. This was followed by top board Chris Dossett winning with the black pieces against the opponents captain. Scarborough captain Simon Dixon then won on time in a superior position, which put them just half a point from victory. Jon Ayres then capped a fine season by supplying the win that lifted the trophy. Simon Chester's magnanimous draw against an opponent very short of time sealed a 4-1 victory.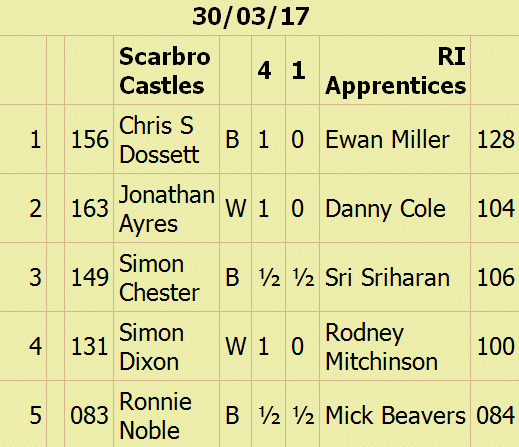 Match Card - Plate Final