Match Reports
Scarborough chess club have had a strange start to the second half of the season. Firstly, they entertained Eagle and Child 2, who were just behind them in the league standings. Unfortunately for the Seasiders two of the middle order were unavailable, but they still held a 953-917 rating advantage going into the match.

Super-sub Malcolm Kirby, playing his first game of the season started things off with a smooth victory on bottom board. Regrettably, for the home team, this turned out to be the high point of the match for them as Simon Dixon and Simon Chester both succumbed to the pressure and lost. John Jarmany and Neil Pennock kept the match alive with draws, but Paul Hutchinson, needing a win to tie the match, overpressed and lost.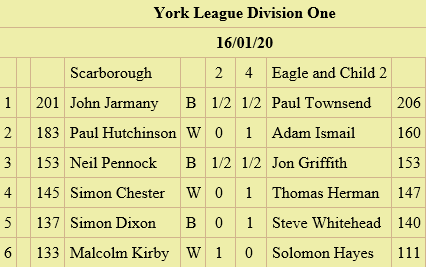 Match Card
A home match with Cavaliers was next on the fixture list for Scarborough. Unfortunately, the Away team could not raise a team and defaulted the match 6-0 to Scarborough.
A trip to Eagle and Child 1 came next. The Seasiders had both Chris Dossett and Les Wells back in their lineup but were missing Neil Pennock. Despite this absence, Scarborough held a 966-900 edge on grades, or 11 points a board, so they started slight favourites .

First to finish was captain Simon Dixon, who won from a tricky position, despite being a pawn down, his active King being the deciding factor. John Jarmany then slipped to a rare defeat on top board when his attack fizzled out. Paul Hutchinson then restored the lead for the visitors with a smooth win. Simon Chester then drew, shortly followed by another draw from Chris Dossett, who could not convert his extra pawn into anything substantial. This left Les Wells needing at least a draw to secure both points. With both players in severe time trouble mistakes and illegal moves happened on both sides. The dispute could not be resolved and this game will have to be resolved by the league. Scarborough have at least a draw in the match, but are hoping to get both points after the stewards enquiry.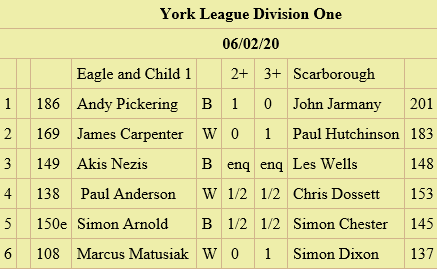 Match Card
This result may play a big part in who wins the league, as Scarborough dare second, a couple of points behind Acomb, who still have to visit the coast in what could be a title decider.

Scalby School Chess Tournament 2020.
Scalby School are running a chess tournament - details below.

Venue: Scalby School, Fieldstead Crescent, Scarborough YO12 6TH. Tel: 01723-362301-Neven Buric.
Date: Saturday 1st February 2020.
Times: 9.30-5.0
Rules of Competition: 6 Round Swiss with 20 minutes each on the clock. Where possible games to be scored.
Chess Experience: Suitable for any chess player ages 8-16.
Refreshments: Some available on site or can bring packed lunch.
Entry Fee: FREE ENTRY.
Prizes-To be presented at the end also medals and certificates.

Contact Neven Buric (details above) to enter or for more information.
Match Report - Acomb v Scarborough
Scarborough chess club faced their toughest match of the season, with an away fixture at last year's champions, and current leaders Acomb. This match had been put back a couple of weeks to avoid a fixture pile-up. Both teams were in good form, with Acomb unbeaten, and Scarborough having won their three latest matches, all by the narrowest possible margin.
The home team not only held the advantage of not having to travel, but on grades they were ahead 1051-968, or very nearly 14 points a board. Only board two, Paul Hutchinson held a rating advantage and then only by a single point. Simon Chester faced the biggest challenge, being 27 rating points lower than his opponent.

First to finish was Neil Pennock, who put up such a good defence that his opponent Michael Jackson found it impossible to "beat it", and the game was drawn. Scarborough captain Simon Dixon then succumbed to the inevitable, with his opponent two pieces ahead for no compensation, to put Acomb ahead. Simon Chester also lost, as his highly rated foe played well in time trouble to put the home side two up with three to play.

Top board John Jarmany then raised the Seasider's hopes with a nice win after sacrificing a pawn for development, then crashing through. Chris Dossett had been struggling, going first a pawn and then an exchange down, but in the knight and pawn, versus rook and pawns endgame, the steed proved equal to the castle and the game was drawn. This left Paul Hutchinson, in mutual time trouble, to queen a pawn and win the game, securing a very entertaining and close-fought draw in the match.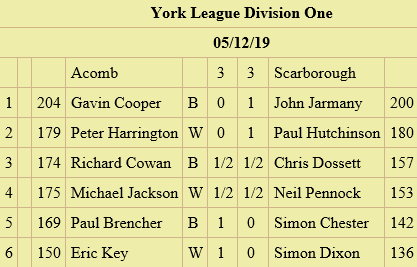 Match Card
This result leaves both teams at the top of the table, going into the Christmas break, with everything to play for in the second half of the season.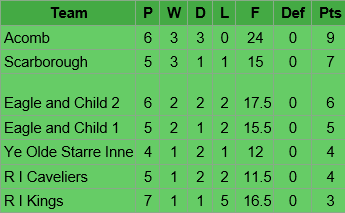 League Table
Scarborough v York R.I. Kings
Scarborough Chess Club entertained Royal Institute Kings on Thursday, hoping to move up the standings with another victory. Their season had started with a narrow loss, but successive wins had boosted their hopes of claiming the York and District League title for the first time in their history.

Captain Simon Dixon had generously agreed to play the match over 4 boards instead of the usual 6, as the visitors were short of two players for the long trip to the coast. There was also a last minute change of venue, as their normal home was double booked. The Cask Inn agreed to let them play there at short notice though, so things were all set for the clash to go ahead.

Scarborough held the upper hand on grades, as for the first time this season both John Jarmany and Paul Hutchinson were available together. The disparity of 690-563, or 31 points a board was the largest they had held all season, but things were to prove much tighter over the board than this would suggest.

First to finish was Paul Hutchinson who crushed his opponent with a strong attack inside an hour. Things were looking much closer on the other three boards though, and it looked as if all three results were still possible. Les Wells then offered a draw in a complicated position, which was accepted by the opposing captain. Chris Dossett was a pawn up but the position was ssuch that either side pushing for a win was too risky, and the game was drawn by repetition. John Jarmany was ahead by an exchange but his opponent had set up a fiendish trap with could lead to a back rank mate. John had a perpetual check against the opposition king though, which he knew would seal the match for Scarborough, so he took it. This gave the Seasiders a third win on the bounce, all by the narrowest possible margin.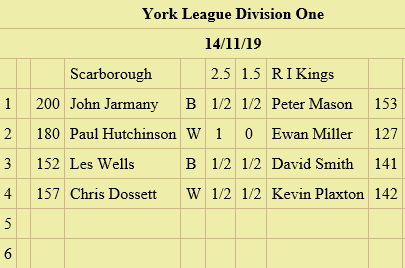 Match Card
This victory moves Scarborough up to 2nd place in the league table, level on points with leaders Acomb. These teams clash next Thursday in Acomb, where the Seasiders hope to extend their winning streak to four and, at the same time, claim top spot in the division before the Christmas break.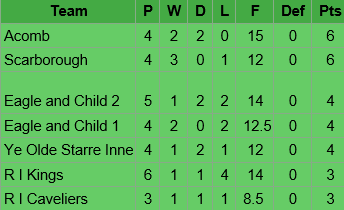 League Table
Scarborough v Eagle and Child 1
Scarborough Chess Club had their first home game of the season on Thursday when they entertained perennial high flyers Eagle and Child 1. This was all set to be a tough encounter against a team that Scarborough had never beaten. The visitors held a 1000-940 rating advantage, or ten points a board; this isn't always the deciding factor though. Eagle and Child top board International Master Simon Ansell was not available, whilst the Seasiders kept the same team that won their previous match last month.

Scarborough captain Simon Dixon was first on the scoresheet, giving the home team an early lead with the white pieces. Simon Chester then kept his unbeaten record intact with a draw in a blocked position. Chris Dossett also drew in a complicated position against his higher rated opponent. John Jarmany then ensured at least a draw in the match, making it 3-1 with a smooth finish when both players were short of time. Les Wells had gone a pawn down early in the game and had wrecked pawns. He struggled to a rook and pawn endgame, but could not hold it. This left Neil Pennock to ensure both points came to Scarborough with a hard fought draw.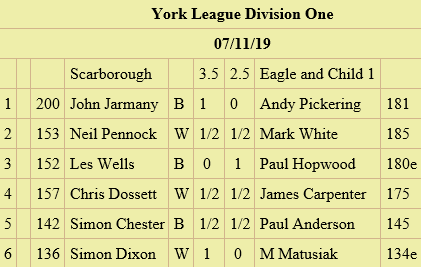 Match Card
Scarborough now entertain R. I. Kings, who they have already beaten this season, so they hope to take their winning streak to three.
The league table makes interesting reading, with everyone having dropped at least two points.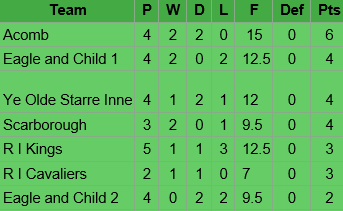 League Table
York R.I. Kings v Scarborough
Scarborough Chess Club were on the road again for their second match of the new season, when they faced the Railway Institute Kings. After a disappointing loss in the opening fixture, they were hoping to get back to winning ways. Although new recruit Paul Hutchinson was not available, Scarborough did have club champion John Jarmany back on top board. Otherwise, captain Simon Dixon selected the same team.

On grading, the Seasiders had an advantage of 940-848, or 15 points a board, so they started strong favourites to take both points back to the coast.

First to finish was Neil Pennock who won quickly, when he used a knight to create what is known as a 'family fork', attacking king and queen at the same time. Chris Dossett then drew in a Budapest Gambit when his opponent returned the gambitted pawn to get an equal position. The sole victor in the previous match, Simon Dixon, then went wrong in an ending with bishops of opposite colours, which levelled the match. Simon Chester then got his second draw of the season, despite being down to his last 5 minutes. Les Wells then showed good technique to finish off his opponent when his rooks mopped up all his opponents weak pawns. This left only John Jarmany on top board, needing a draw to secure the points. His opponent had sacrificed a rook for a vicious looking attack. John gave back the material to reach a queen and pawn endgame where his king had no shelter from checks, so a draw was agreed.

This gave Scarborough victory by the narrowest of margins, after losing by the same score in their first match.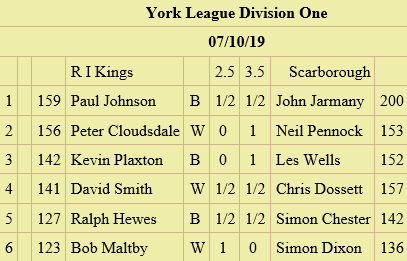 Match Card
Scarborough now have a break until November 7th when they play their first home fixture of the season against a strong Eagle and Child first team. If the hosts have both John Jarmany and Paul Hutchinson (each of whom have wins against Grandmasters in the past), available, they could shock the visitors.


Ye Olde Starres v Scarborough
Scarborough Chess Club started the new season in the York and District League, Division One, with a difficult away trip to the newly renamed Ye Olde Starres. The name change is due to a switch in venue, and they now play in the oldest tavern in York. The home team outgraded the visitors on every board, holding an overall 1014-920 rating advantage, or 16 points a board, but the match proved a lot closer than could have been expected. Scarborough were missing top board and club champion John Jarmany, but they have recruited Paul Hutchinson, a very strong player making his comeback after a ten year hiatus.

Les Wells was first on the scoresheet for the visitors, with a well earned draw against his experienced opponent. Neil Pennock also drew a complicated game in the Queens Gambit declined opening. Chris Dossett then slipped up in a Sicilian Defence after some wild complications, to put the home team in front. Paul Hutchinson mis-remembered the best move order in a Leningrad Dutch and went down to his highly rated opponent. Ye Olde Starres then got the half point they needed to secure victory when Simon Chester could not find a way to win in a blocked position and a draw was agreed. Captain Simon Dixon got a consolation victory on bottom board when his opponent ran out of time. This meant Scarborough lost by the narrowest of margins.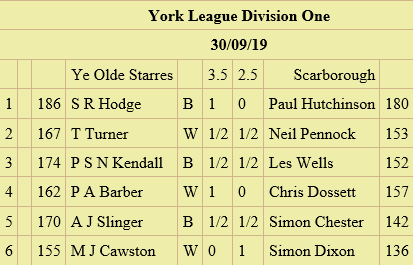 Match Card
Although this is a disappointing start to the season, if Scarborough can get their strongest team out regularly, they could still challenge for a top three finish.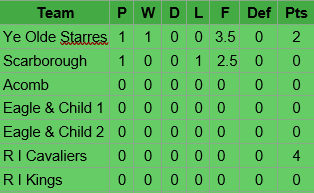 League Table
Doug Rawlinson Rapid Play
The club will be holding an evening event on the 18 June which will give players of all levels the opportunity to play five games in the evening. Anybody is welcome to attend. The event will commence at 7.30 pm at the North Riding Public House, North Marine Road, Scarborough.
Chess report 2018/19 season, matches 1 and 2
Scarborough Chess Club first team had a tough start to the season in prospect with two tricky away games.

Firstly, they were to face the current league champions and favourites to retain their title, Terriers. Scarborough were also behind on ratings, with the home team holding a 1015-925 advantage, or 15 points a board. To make matters worse for the Seasiders, they were missing Chris Dossett who was runner-up in the Scarborough Club Championships in the last two years. They did however have a new recruit in Les Wells who used to play in the York League some years ago when he lived in the area.

The situation looked equal in for much of the match, but gradually things started to move in the direction of the home team. First Colin Weller, then Simon Chester and Simon Dixon lost control and Scarborough found themselves 3-0 down. John Jarmany pulled one back on top board with a well-timed mating attack, but Neil Pennock could not extricate himself and eventually lost on time to secure the points for Terriers. Debutant Les Wells then won, against his highly rated opponent, to make the final score more respectable.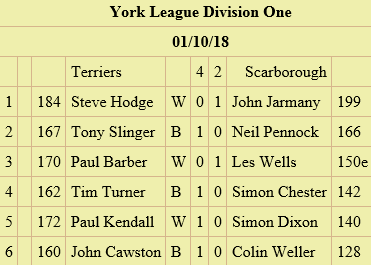 Match Card
Scarborough's second match of the season was another tricky trip to newly promoted Railway Institute Kings. They ran away with the second division title last year and had already started this season with a victory against a team with higher ratings than themselves. For this match Scarborough welcomed back Chris Dossett, but new player Les Wells was unavailable due to a non-chess related injury. Scarborough held a 940-841 rating advantage, or 16 points a board, so started as favourites, though the home side looked to have strength in depth.

The Seasiders started off brightly with a couple of solid wins on the top two boards, John Jarmany and Neil Pennock. With two points on the board and four games still playing, things were looking good, but the situation was worsening on the games still in play. Captain, Simon Dixon though a pawn down, managed to secure a draw, but Colin Weller on bottom board succumbed to his opponent's sacrificial attack to make the score 2.5/1.5 to the away team. Simon Chester then lost from a good position to bring the scores level. Chris Dossett was 3 pawns down and looked lost, but he managed to swap into an ending where each side had a bishop, but of opposite colours, where the material disadvantage was not decisive, and a draw was agreed for both the game and the match.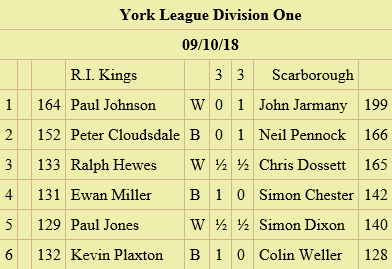 Match Card
Scarborough now have a break until November for their first home game of the season against Eagle and Child first team.