Doug Rawlinson Rapidplay
The Doug Rawlingson Rapid Play on the 13 June 2017 resulted in an exciting last round. John Jarmany was held to a draw by Neil Pennock with the White pieces which left Simon Chester the opportunity to tie for first place with four points if he could beat Jon Ayres with the Black pieces which he eventually did in the last game to finish. No tie break play off again this year. In joint third were Chris Dossett, Neil Pennock and Colin Weller all on three and a half points each. The prize of a copy of British Chess Magazine when to Tom McNally for his 2 points having faced some of the strongest players in the club. A total of fourteen players participated.
League Match - 6th April 2017
Scarborough first team played their last match of the season against Super Knights at the RI on the 6 April. Even with a number of first team regulars not been able to make it the team had a rating advantage of 817 to 768 . The match proved a far closer contest. Neil offered an early draw for it to be turned down but having it accepted later when his position improved. Nigel then lost a piece and his game followed by Colin finding himself in a lost ending. At this stage Simon Dixon was in a worse middle game and Gary was only sightly better. Simon Chester was better and then his opponent allowed a neat combination allowing Simon to win a rook which he then swapped for a knight and continued to exchange material and win. In the meantime Simon Dixon had reached a very good endgame with a Knight against a Bishop which he won. All then depended on the last game with both players getting low on time. This was a bishops of the same colour ending in which Gary could win if the Bishops were exchanged and his King could penetrate the position but had to keep protecting his queen side pawns which were on the same colour square as the bishop. The players finally agreed a draw and we were able to draw the match.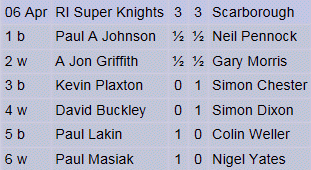 Match Card
League Game and Plate Final
Last week Scarborough played their only Monday game of the season away at Terriers, whose club is not available on Thursday evenings. This followed a defaulted match by Cavaliers gave Scarborough 2 points. Terriers had a strong side out, and held a 1,012-989 grading advantage over their rivals. In the end, Scarborough could only muster two draws and went home defeated 5-1.

Later the same week, The seasiders again travelled to York to play the Plate Final, a competition for teams knocked out of the Cup in the first round. Scarborough were missing their top two boards, but were still heavy favourites to lift the trophy, as they outgraded their opponents 602-442, or 32 points a board. The match was originally meant as a home game for Scarborough, but after being told of transport problems for the Apprentices, captain Simon Dixon generously offered to switch venues and travel to York Railway Institute to play the tie.

Ronnie Noble, playing his first game for the A team this season, secured a solid draw on bottom board. This was followed by top board Chris Dossett winning with the black pieces against the opponents captain. Scarborough captain Simon Dixon then won on time in a superior position, which put them just half a point from victory. Jon Ayres then capped a fine season by supplying the win that lifted the trophy. Simon Chester's magnanimous draw against an opponent very short of time sealed a 4-1 victory.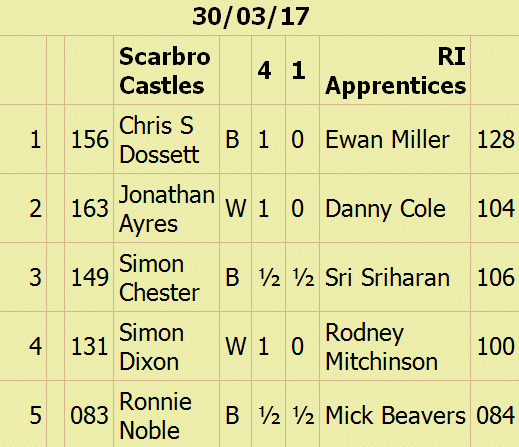 Match Card - Plate Final
York League Report
Scarborough first team have had a busy fortnight, with two more matches in the York League top division. The first was meant to be a home game, but University again said they were unable to travel so Scarborough agreed to play the match in York.

Although University were without their three top rated players, they still outgunned Scarborough by an average of 15 rating points per board. This shows the strength in depth, though how many of these players would have been available if they had had to travel to the coast is debatable. It is certainly a huge advantage to get to play at home.

The seasiders were missing their unbeaten star performer Jon Ayres for this one, and that really showed in the final result. It turned out to be Scarborough's worst performance of the season, with only Neil Pennock playing anywhere near as well as they can.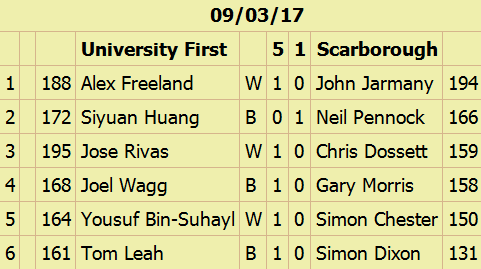 Match Card
The latest match was away at Brigantes, always a tough match despite their poor form this season. Scarborough had a miniscule 983/976 rating advantage, which is just over 1 rating point per board, so it was always going to be a closely fought thing. Jon Ayres returned for the visitors and carried on his superb form with a brilliant display of endgame technique where his King played the major role in the win. This had followed a quick draw from Neil Pennock, but defeats for Chris Dossett and John Jarmany then put Scarborough on the back foot. Simon Chester was playing old foe Michael Jackson, and it certainly did turn out to be a "thriller". Both sides were pressing for checkmate in a rook and pawn endgame, but the killer blow came from Simon. Gary Morris then agreed a draw to secure a point each in a topsy-turvy encounter where the players with the white pieces failed to win a single game.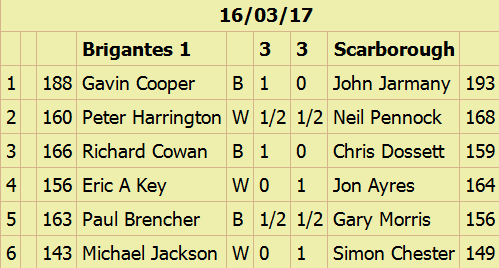 Match Card
York League Report
On Thursday, Scarborough first team played hosts to the league leaders Eagle and Child first team, in a make-or-break match. A loss for the Seasiders would effectively end their season's hope of winning the title. Scarborough had their strongest team out, with a grading average of 166, but the opposition, despite missing a few players, averaged 172 for a 6 points-a-player advantage. This is one reason that they are riding high at the top of the league. Their squad is strong enough to bring in replacements such as board three Paul Hopwood, rated 189, for his first game of the season.

Scarborough started the match well, with a quick draw from Jon Ayres, shortly followed by a win on bottom board by Gary Morris, who's attack proved unstoppable. Simon Chester, so often Scarborough's hero this season, then succumbed to a kingside pawn storm. This put the match level with the top three boards still playing. Chris Dossett then salvaged a draw, after being a pawn down for much of the game, leaving the match all square again. Both the top boards went down to the final few seconds, but unfortunately for the home side, both went the way of Eagle and Child and the match ended in defeat.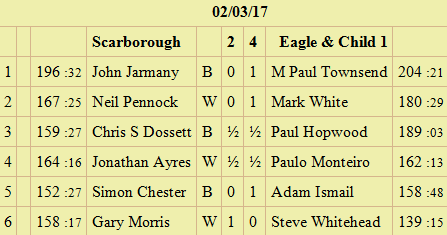 Match Card
York League Report
Scarborough's latest match in the York and District League, First Division, was against Eagle and Child second team, played at the North Riding Hotel on Thursday. They were expecting a tough encounter as the York team have two International Masters in their squad. Only one was available though, which meant that Scarborough started slight favourites on ratings, with average ratings of 166 to 152 in favour of the seasiders.

As the match turned out, Scarborough dominated on the bottom boards, winning all three. This included another win from Jon Ayres, who has now gone eleven league and cup games without defeat this season, winning five and drawing the other six. Unfortunately for Scarborough, the players on the top boards could not match their teammates, losing all three games, and the match was tied, three all. This leaves Scarbrough in mid-table with a record of four wins, two draws and two defeats. They have games in hand on some of their rivals above them in the table though, so they are looking to improve their position.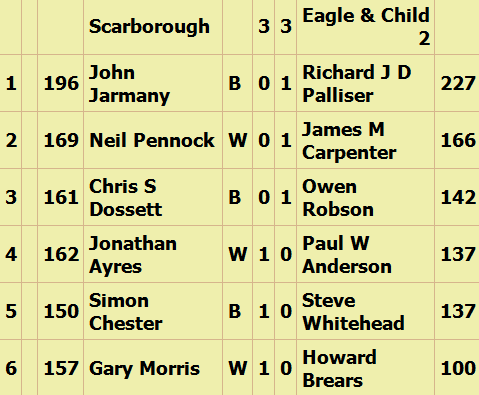 Match Card
York Cup Semi Final Report
Scarborough travelled to York University second team, who are riding high on top of the second division, for a cup semi-final tie. The Seasiders started favourites, but not by a huge margin. Average grades were 152 for the students to 161 for the visitors, so there was no complacency.

Simon Chester was first to finish, holding his opponent to a draw in a complicated position. Shortly after this, captain Simon Dixon was forced to also concede a draw, with no way to play for a win in a rook and pawn endgame. Jon Ayres then continued his unbeaten streak that has yet to be broken this season with another draw. This left the top two boards in play. Both were looking good for Scarborough and, shortly afterwards, John Jarmany forced the win of his highly graded opponents queen, which forced immediate resignation. Chris Dossett was better, but without a winning line, but a draw was enough to win the match. He forced a perpetual check, which took Scarborough through to the final, where they will play another Second Division side in The Apprentices from Railway Institute.



Match Card
Harrogate Congress
Just before the last league match, three club members travelled to Harrogate to play in the 4NCL Congress there. Over 120 players were in 3 sections. Colin Weller finished on 50% in the Minor, whilst Chris Dossett had 2/5 in the strong Open. Star performance of the event was from John Jarmany. He finished as joint winner of the Open on 4/5, including a win over Grandmaster Danny Gormally. If you want to see that game, Danny has posted a YouTube Video entitled "My Chess Hell", where he goes through some of the many reasons he played so badly in that game. I know John has slightly different views on some of the judgements Danny gives on the possible variations. Congratulations on your win John. It's not everyday a Grandmaster resigns in under 25 moves to someone graded over 300 Elo points below him.
York League Report
Scarborough travelled to Eagle and Child first team for a rearranged match. This was supposed to be a home tie for the seasiders but the venue was not available so the tie was switched, meaning the return fixture will be in Scarborough later in the season. Both teams have been in excellent form in the first half of the season, so a tough tousle was expected, and whoever came out victorious would go to the top of the league table. The Home team held a grading advantage of 1031 to 966, or 11 points a board, so the odds were in their favour.

Jon Ayres kept up his unbeaten run in the league with a hard fought draw, shortly followed by Simon Chesters agreeing parity in his game. Neil Pennock looked to have a slight advantage against Mark White, but it wasn't enough for the full point. Captain Simon Dixon's early foray with his King looked dangerous to the monarch's health. Unfortunately for him his "long march" proved to be his downfall ending in checkmate. Chris Dossett was an exchange down after missing a trick. His opponent, Andy Pickering who had won every game in the league to this point, blundered the exchange back into a drawn rook and pawn endgame. This left top board John Jarmany needing a win to tie the match. There was an amazing double blunder where his opponent captured with the wrong piece, allowing a forced checkmate, which John missed in time trouble. This meant the game was drawn shortly after, with Scarborough going down by the narrowest of margins for the second match in a row.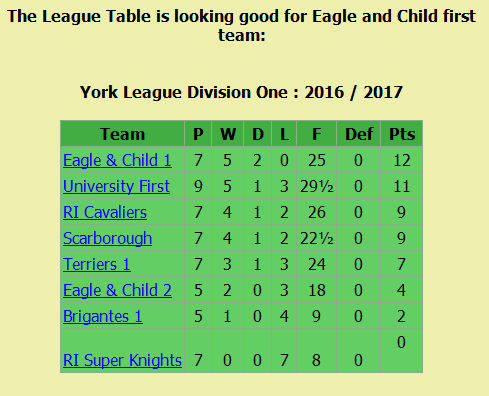 League Table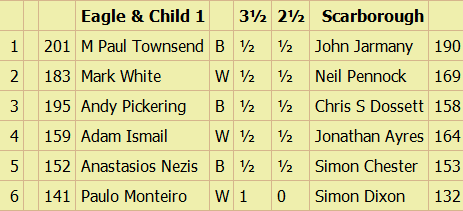 Match Card